With friends like these: just how close are the Liberal Party and IPA?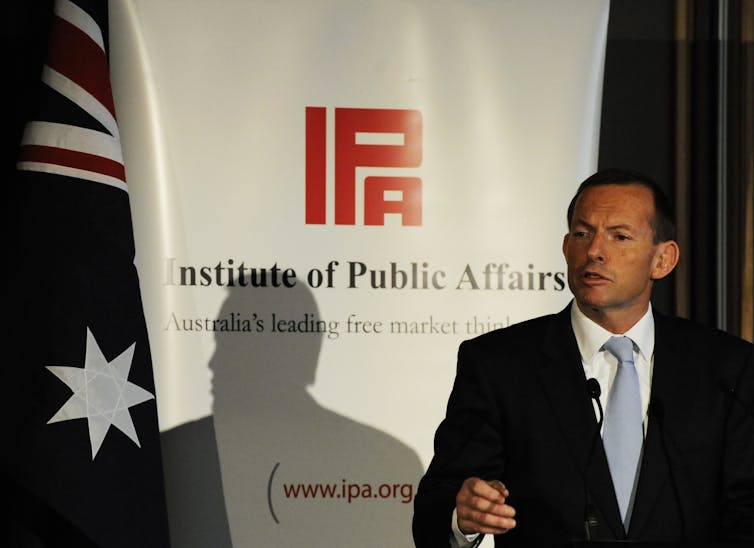 Dominic Kelly, La Trobe University
In the latest in a long line of hyperbolic statements, Institute of Public Affairs (IPA) director John Roskam recently likened the Turnbull government's language on superannuation to that of two self-declared socialists: US presidential candidate Bernie Sanders and British Labour leader Jeremy Corbyn.
Roskam believes that Malcolm Turnbull, he of the A$200 million net worth, would rather attack the wealthy than cut government spending.
Though not formally linked to the Liberal Party, the IPA is generally sympathetic to its aims and has shared many key personnel over the years. The dispute over superannuation is an interesting development in a relationship that can alternate between constructive and tense.
Shared history
A group of prominent Melbourne businessmen founded the IPA in 1943 in the wake of the United Australia Party-Country Party coalition's devastating election loss.
Inaugural chairman G.J. Coles (founder of the Coles supermarket chain) outlined the IPA's approach. He said it:
… did not wish to be directly involved in politics, but it wanted to help create a modern political faith, which would be constructive and progressive and which would receive a large measure of public support.
Concerned the Labor Party was leading Australia down a path of central planning and socialism, the IPA set out to develop and promote an alternative vision. To that end it published a 70-page pamphlet titled Looking Forward: "a post-war policy for Australian industry".
One person paying close attention was Robert Menzies, who in 1944 described the pamphlet as:
… the finest statement of basic political and economic problems made in Australia for many years.
Many of the policies outlined in Looking Forward were incorporated into the platform of the Liberal Party, founded the following year.
Though the IPA and the Liberal Party were characterised in their early decades by a mildly Keynesian, interventionist approach to the economy, since the 1980s both have switched to a more hardline neoliberal philosophy – embracing free markets, lower taxes and trickle-down economics.
Shared personnel
David and Rod Kemp, sons of the IPA's founder and driving force C.D. "Ref" Kemp, became key figures in both the IPA and the Liberal Party.
David wrote his honours thesis on the founding of the IPA, then combined an academic career with stints advising Malcolm Fraser before entering parliament in 1990. Rod took over and revitalised the IPA in 1982 before he was elected to the Senate, also in 1990. Both were ministers in the Howard government.
Former Liberal MP and leading economic "dry" John Hyde ran the IPA from 1991 to 1995, before being replaced by Mike Nahan, who is now treasurer in the Western Australian Liberal government.
Roskam took over from Nahan in 2005, and remains in the job despite harbouring ambitions to be a Liberal MP. Having failed to win Senate preselection in 1997 and 2003, Roskam dipped his toe in the water for the blue-ribbon seats of Kooyong and Higgins in 2009, but pulled out of both races prior to the final ballots. He also nominated for the Victorian state seat of Hawthorn in 2014, but was again unsuccessful.
Roskam has overseen the recruitment of a cohort of young, media-savvy libertarians to engage more forcefully in ideological debates. Examples include James Paterson, now in Canberra having recently taken up a casual Senate vacancy, and Tim Wilson, the former Human Rights Commissioner who is almost certain to be elected to the lower house as a Liberal in July.
Embarrassed on 18C
When Herald Sun columnist Andrew Bolt was found to have breached Section 18C of the Racial Discrimination Act in 2011, the IPA was outraged and immediately launched a campaign to repeal the offending section.
A full-page advertisement was taken out in The Australian. It included the names of senior Liberals such as Jamie Briggs, Michaelia Cash, Mathias Cormann, Mitch Fifield, Nick Minchin and Andrew Robb.
In 2013, then-opposition leader Tony Abbott promised Bolt and the IPA that, if elected, his government would repeal Section 18C. But faced with concerted opposition from ethnic communities, Abbott backed down. The IPA was furious and raised funds for another full-page advertisement, but to no avail.
This odd fixation on the "right to be a bigot", combined with Abbott's political demise, led at least one commentator to conclude the IPA has been relegated to the fringes of political debate.
Reverting to type
Since Turnbull's elevation to the prime ministership, the IPA has shifted its focus to an issue fundamental to its membership: protecting wealth. Roskam's Financial Review columns have become increasingly strident about the threat posed by higher taxes and the likelihood that tax rorts for the rich may be reined in.
This can be seen as a reversion to type for the IPA. It was founded by rich men with rich men's interests at its core, albeit with obligatory nods to the national interest. In recent years it has become a more libertarian organisation, focused on cultural issues such as freedom of speech, civil liberties and the incursions of the "nanny state".
But amid the embarrassing failure of its campaign against 18C, the IPA has discovered an old threat from a new, surprising enemy: a Liberal Party that wants to "soak the rich" with changes to superannuation.

Though Roskam claims to be fighting on a "matter of principle", ordinary voters are likely to view this blatant attempt by the wealthy to avoid fair taxation as just as baffling as Tim Wilson's musings on the freedom to use the n-word.
Dominic Kelly, PhD Candidate in Politics, La Trobe University
This article was originally published on The Conversation. Read the original article.